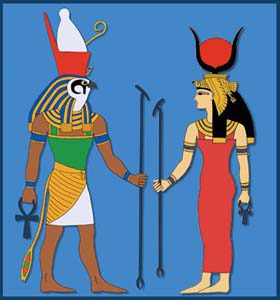 The Beautiful Reunion
In our time of fallowness, as Ra has reached his fullness in the sky, come join us for the Beautiful Reunion of Heru-Wer (Horus) and Hethert (Hathor). We will celebrate the joy of life with Hethert and victories of every type with Heru-Wer as they come together for their yearly nuptials. To celebrate their wedding feast, please bring a dish or beverage to share with your fellow celebrants and the deities.
Gathering is at 7:00 PM, with the ritual starting at 7:30 PM. Children who can respectfully participate are welcome to attend the ritual. Childcare will be provided for younger children during the ritual. Everyone is welcome to join us for the feast afterwards.
Donations to defray costs are welcome but not required.
For more information, visit or message us on  Facebook.
All of our rituals are held at the Denton Unitarian Universalist Fellowship, located at      1111 Cordell Street, Denton, TX  76201
 DIRECTIONS:  From I-35, exit US-380 (University Drive) eastbound.  Go approximately 1.8 miles east on University, then turn right (south) onto Fulton Street.  Go three blocks, turn right (west) on Cordell. DUUF is on the left, on the southwest corner of Fulton and Cordell – our illuminated sign is on the corner.
Picture from http://kemetic-independent.awardspace.us/reunion-feast.htm